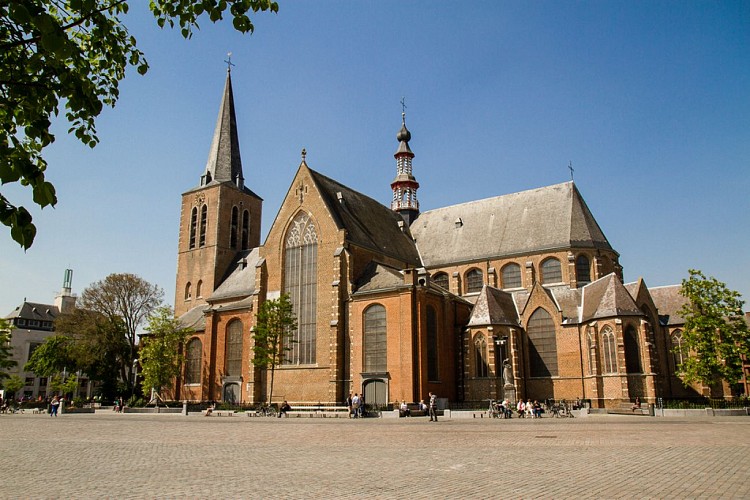 The only evidence of the first church (late 13th century or earlier) is the bottom part of the 62 m high tower. The construction of the current church was carried out in several phases. The transept and the ring of chapels date from the second half of the 15th century, the small renaissance tower from 1633-1634. The nave was raised, two side aisles and the buildings at the transept were added.
The interior of the Saint Peter's church is impressive. The splendid pulpit was made by Turnhout sculptor H. Peeters-Divoort and was placed in 1862. It depicts the Biblical scene of the miraculous draught of fishes. The choir stalls come from the priory of Corsendonk and seat 42 people. Numerous 18th century tombstones have been preserved in the floor. The stained-glass windows all date from the 1872-1945 period. The Le Royer organ from 1662 was restored by Joris Potvlieghe in 1997. The carillon bells were cast by Andreas-Jozef Vanden Gheyn.
Thanks to the Saint Peter's church the inhabitants of Turnhout are also known as 'muggenblussers'. In 1755 the alarm message 'Fire! The tower of Saint Peter's church is on fire!' rolled over the market square. All men rushed up to form a line and pass buckets filled with sand and water. Then they saw that the tower wasn't on fire, but that a swarm of mosquitos hung around it. Numerous poems and publications mockingly recounted this 'fire' and the nickname 'mosquito extinguishers' was born.
Infos techniques
Lat : 51.32310180992
Lng : 4.9486958455078
0 m