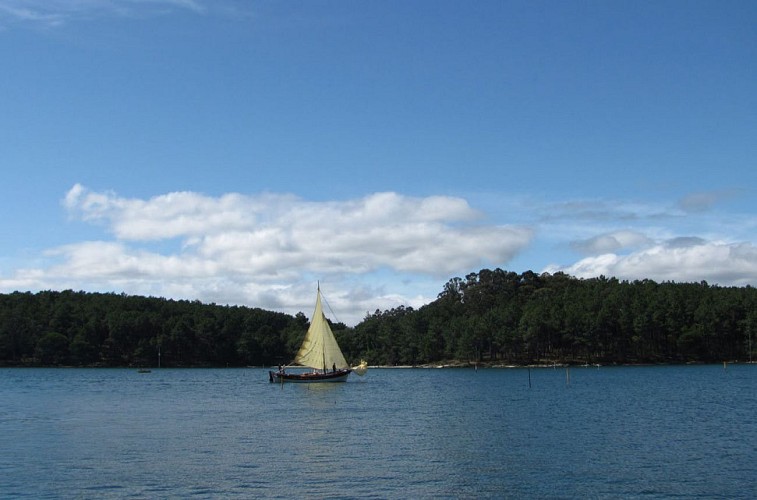 The island chain Cortegada in Vilagarcía de Arousa (191 hectares, 44 land and 147 maritime) is located in the inner part of the sea inlet of Arousa, near the estuary of river Ulla. It shows different features from the rest of the island chains. It consists of a principal island, Cortegada, and other small islands such as Malveiras, O Con and Briñas. The island of Cortegada can be visited from the nearby harbour of Carril.

This flat island has a maximum height of 19 meters. Its estuary influence makes it very different from the rest of the islands. It´s covered by a wet thick forest and its bay leaf trees is important because it´s one of the biggest in Europe. There are other species such as common and humid oaks, willows and alders. On the island of Malveira Grande there is one of the few humid oak forests of the Atlantic coast.

Forest birds are found (northern goshawk, common buzzard, European robin, great tit, coal tit). Also water and sea birds as mallards, waders, herons, little egrets, yellow legged and black headed gulls and great cormorants can be found.

There´s an information point and a circular marked self-guided itinerary with different stops through a leaflet.

Remarkable elements and places are the hermitage of the Virgin of the miracles, the village, the stone crosses, the sandy areas, the viewpoint, the aquaculture park with its unique clam crops between Cortegada and Carril, away from the boundaries of the park, though.
Infos techniques
Lat : 42.614723407984
Lng : -8.7851892116394
0 m