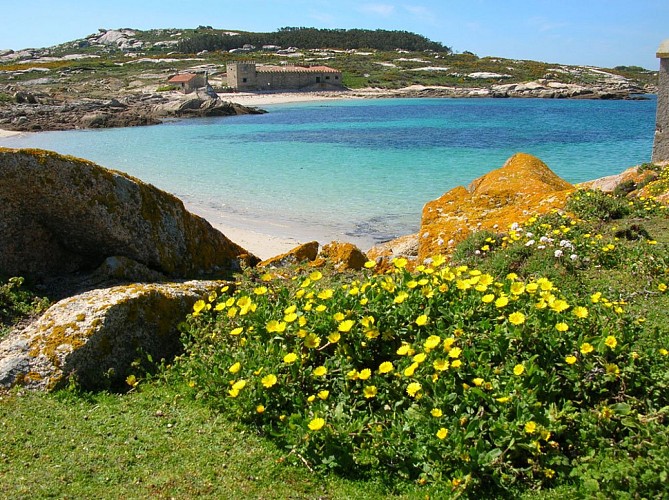 The island chain of Sálvora (Ribeira) has 2557 hectares, 248 land and 2309 maritime. It´s located in the beginning of the sea inlet of Arousa and it consists of the principal island of Sálvora and a set of small islands like Noro, Vionta and Sagres. The island of Sálvora can be visited by boat or ship from O Grove´s harbour.

On this island the access is restricted to the Lighthouse route and the village route (the second one only if we are accompanied by a licensed guide). They are return routes. The lighthouse route has information panels. The island has gentle slopes and a maximum altitude of 73 metres (Gralleiros). There are many round granite rocks which have been eroded by the wind presenting curious shapes. They are called the the monsters (or "bolos") of Sálvora.

When we sail towards the islands we can see marine mammals such as common and bottlenose dolphins and migratory birds such as gannets, shearwaters and common terns.

Remarkable elements and places are the lighthouse, the dunes of the sandy areas of "O Almacén" and "O Bois", the old fish salting factory, the tavern (transformed later into a pazo -country house- and a chapel), Santa Catalina´s fountain, the tile kiln, the village with "hórreos" and stables and the Mermaid´s sculpture.
Infos techniques
Lat : 42.469928043779
Lng : -9.0018294708252
0 m