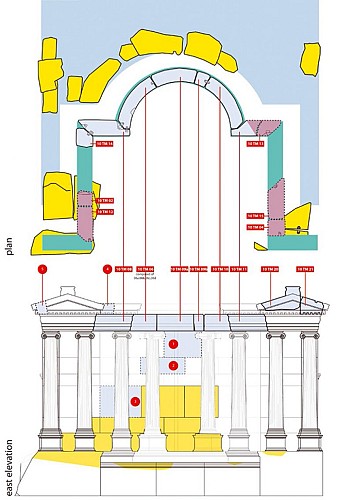 A fountain next to the stadium



The first monumental fountain built in Sagalassos was located next to the Stadium. It was dedicated to the city and Emperor Trajan (98-117 AD). Claudia Severa, a member of the most important family in Sagalassos, financed the construction of the fountain along with her sisters and brothers. Sagalassos' two most prominent families of that time were united through her marriage to the grandfather of T. Flavius Severianus Neon. The fountain reflected a new aspect of urban benefactions around 100 AD: whereas during the Julio-Claudian period (AD 14 - 58) monuments to the Imperial family had only honorific character, in the later period they were also utilitarian.



The fountain, now collapsed, measured 6.5 by 7.5 m. Its apsidal (semi-circular) façade consisted of a podium that supported a solid wall decorated with an elegant Ionic colonnade. In the middle of the back wall, a vertical groove suggests the presence of a pipe for water supply, implying that the basin was probably not supplied from a cascading water system but through a single spouting statue instead.
Infos techniques
Lat : 37.677947479686
Lng : 30.512741025887
0 m