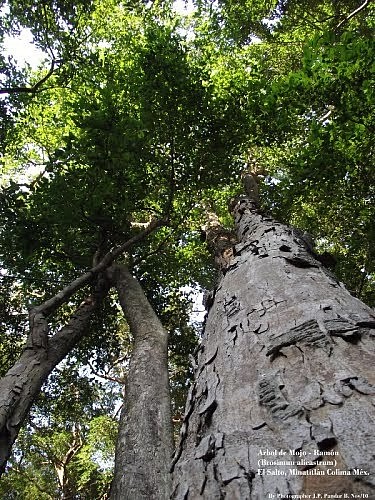 This tree can reach 45 m in height and 1 m in diameter. He says he is in danger of extinction.

Bark ribbed, cylindrical, with external buttress roots, giving more support needed if your root system is shallow, with savialechosa sweet and sticky. Outer bark smooth, light gray, reddish wood with yellowish central section.

Flowers unisexual, solitary and axillary. The male flowers, yellow, globose catkins are combined in compounds, peltate scales and lack corolla. The female flowers are gathered in heads oblong, oval, with smaller scales. This species protogynous consecutive esmonoica: Brosimum alicastrum when sexually mature (ie, when it produces flowers, which happens to be born five years from its seed, or sooner if reproduced from cuttings) produces female flowers, while from a certain point in their life cycle producing their male flowers sexuality changes.
Infos techniques
Lat : 19.4115409
Lng : -99.1944562
0 m