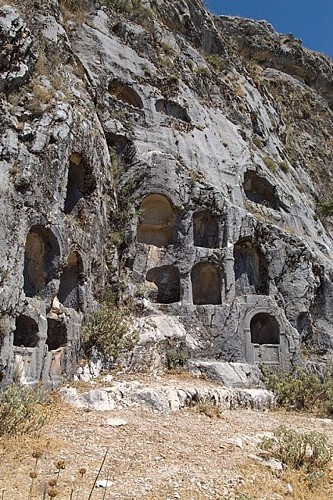 The Western and Northern Necropoleis

Cities of the dead



One of the largest of Sagalassos's four necropoleis is located to the west, on the skirts of the terraces on which the city was built. It lay on and around a limestone massif where a church stood in the 5th or 6th century AD. The western necropolis covered more than 5 hectares and contained mostly sarcophagi.



To the north an almost vertical rock face with arched niches (arcosolia) forms the smallest of Sagalassos' necropoleis, the North Necropolis. The arcosolia date back to the Imperial period (1st to 2nd century AD). Some feature a cremation urn carved into the rock, while in others a separate cremation urn would have been placed in the niche. In a third group the urn or coffin is formed by a separately carved and decorated slab.
Infos techniques
Lat : 37.677720333527
Lng : 30.516458567582
0 m