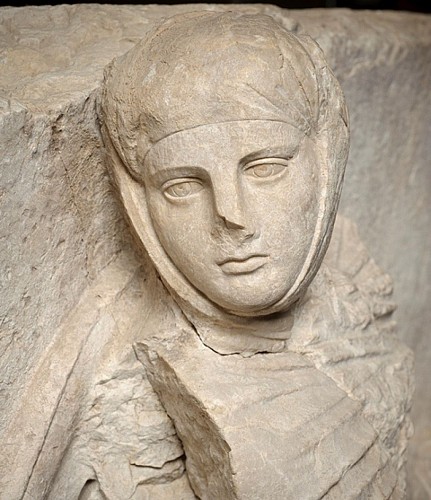 The base of the Heroön was decorated with a wonderful frieze. You can see a girl playing the cithara and thirteen dancing girls depicted almost life-size and in relief. They are dancing in the round, and two carry symbols related to worship of the god Dionysos. It could be that the person honoured with this monument had introduced this cult to Sagalassos, or had organized festivals for him during which such dances were performed. The original stones from this frieze are on display in the Burdur Museum, as well as the beautiful marble head of the statue found here.



Another frieze of lush winding vines is visible higher up on the walls. This decorative theme comes from Italy, where the architects of Emperor Augustus used it to symbolize the prosperous 'golden age' that the emperor had begun. At Sagalassos, this imagery (and the propaganda behind it) spread very quickly.



The Heroön exemplifies the work of Sagalassos' master craftsmen, which can be seen over many generations on numerous prestigious graves and public monuments. Archaeological research allows us to follow their activity in the city for almost four centuries.


Infos techniques
Lat : 37.677410394656
Lng : 30.51738929411
0 m