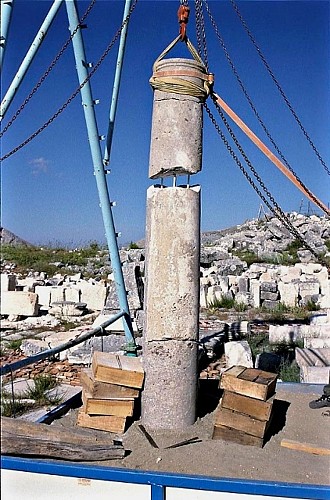 The project consisted of four phases:

1- Joining all broken fragments together and identifying their original position.

About 3500 broken pieces of stone were reassembled into approximately 400 blocks (1998-2000). Their exact position on the building was defined (restitution).

2- Carving the supplemental and missing pieces

Hundreds of missing building fragments were re-carved to perfectly match the broken surface of the partially preserved blocks. This technique was applied only to the missing parts that were structurally necessary. Next, the whole monument was set-up without fixing the architectural elements to each other, to test whether the hypothetical restitution was accurate (2001-2007).

3- The anastylosis

The whole building was then dismantled again. The final construction then began, this time with structural connections joining the blocks. Stones were connected to each other vertically and horizontally as they used to be in the ancient building. The new connections made of fibreglass were designed to be strong enough to resist stress but at the same time, slightly weaker than the original stone. Under excess load, these connections will break first, preventing the ancient stone from cracking and further damage. To reduce earthquake risk, neoprene vibration isolation panels were placed in the upper part of the structure, below the architrave. (2008-2010).

4- Reconnecting the water supply.

To complete the structure, water was brought to the Nymphaeum from the Late Hellenistic fountain house, 230 meters to the east, restoring its ancient function as a public fountain.
Infos techniques
Lat : 37.677374305799
Lng : 30.51801693102
0 m