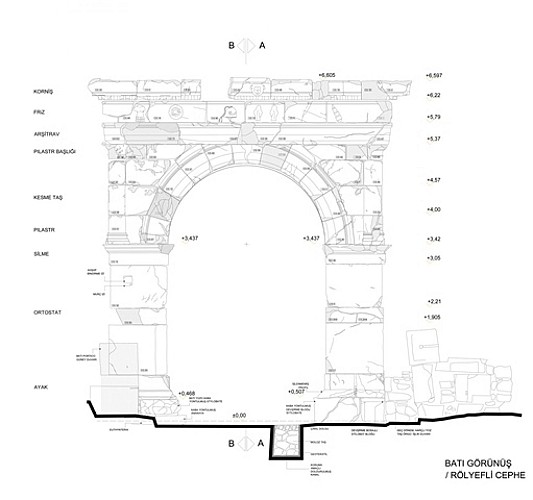 A monumental gate to the agora



Remains of a collapsed monumental arch visible in the topsoil in the southwest corner of the Upper Agora were first studied in 1987.

Archaeologists excavated the area in 2010 and found out that almost all of the building blocks were preserved as well as the two pillar bases of the arch. The building inscriptions revealed that the monument was financed by, "Kallikles, son of Darius". He was a grandson of Eilagoas who was honoured with a bronze statue on top of the northwest column in the agora. This Sagalassian family was the first family in the city to acquire Roman citizenship, perhaps because they sponsored the construction of this arch.

The building was originally dedicated to Caligula. However upon his death, his name was condemned and erased from inscriptions all over the Empire including this arch in Sagalassos. Subsequently the arch was re-dedicated in 43 AD to his successor Emperor Claudius and his brother Germanicus, Caligula's father. The original inscription was erased and replaced by new ones at the two ends of the frieze. Inscriptions were placed on the side of the arch facing the agora, while a weapon frieze decorated the side facing the southwest street approaching the agora.

The monument was restored using its original building stones in 2011-2013. An almost identical monumental arch, dedicated by the city to Claudius in 46 AD, stood just opposite to this one at the southeast corner of the Upper Agora.
Infos techniques
Lat : 37.67686905996
Lng : 30.517780896626
0 m