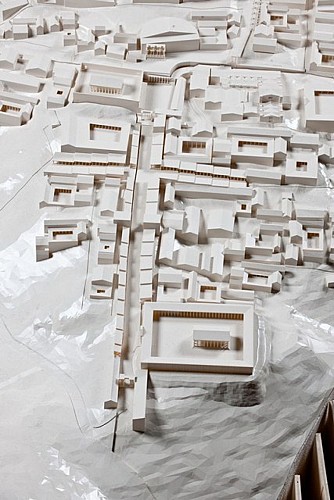 The Colonnaded Street

An elegant avenue



The north-south Colonnaded Street of Sagalassos is an elegant paved avenue with porticos on both sides. Built during the second quarter of the 1st century AD, it is one of the earliest such streets in Asia Minor. The construction of the road must have been very expensive: to level the road, a deep depression between two hills had to be filled by hand with thousands of cubic meters of rock and soil.



The Colonnaded Street was about 300 meters long and 10 meters wide. Along both sides of the street there were covered galleries (porticoes) 3.5 meters wide. Rows of columns faced the street side, and behind them stood shops, eating houses and workshops. During the reign of Tiberius monumental gates were built at both ends of the street.



A visitor approaching Sagalassos from the south would have taken the road around the foot of Alexander's Hill and entered the city from the monumental gate at the southern end of the Colonnaded Street. The street was well-maintained until at least the 6th century AD.
Infos techniques
Lat : 37.675034861275
Lng : 30.518193956815
0 m