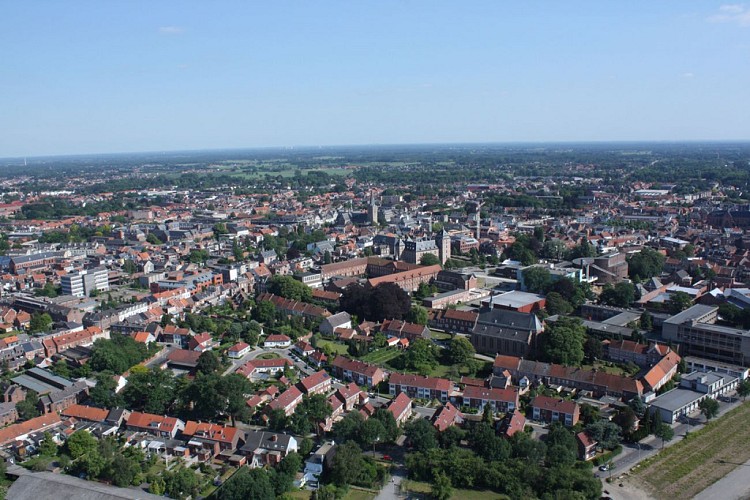 In the north of Belgium, near the border with the Netherlands, lies Turnhout, a city of 5,500 hectares, in the Antwerp Campine. Archaeological discoveries indicate that it was already inhabited in prehistory.

In 1212, Duke Hendrik I of Brabant granted Turnhout the civil rights 'Stad en Vrijheid' (City and Freedom). From the Middle Ages to after Belgian independence the city had an extremely important function as storage area of sheep's wool, which resulted in an intensive weaving industry. After Belgian independence, the paper processing industry and printers took over in Turnhout. Prayer books, missals, 'mannekensbladen' (early comics) and playing cards thus became the city's trumps. Since this period, Turnhout can proudly call itself the 'playing card city'.

It can also with right and reason call itself a centre city as Turnhout exercises a central role in the field of employment, education, culture and leisure for the region. So it's not surprising that Turnhout is allowed to put the name 'Capital of the Antwerp Campine' on its trading card. No place in the Antwerp Campine is as centrally located as Turnhout, which makes it the ideal operating base for a trip to the broader region.

But now it's time to visit the city and discover its advantages. In the north lies the 'Vennengebied' (Fens region) which is unique in Europe. The Beguinage was recognised by UNESCO as world heritage in 1998. The courthouse is situated in a castle with moat in the middle of the city.
Infos techniques
Lat : 51.3231259678
Lng : 4.9488015201905
0 m