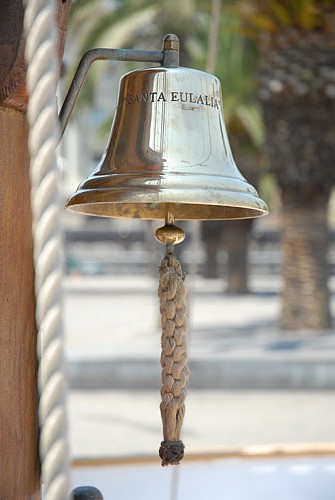 This device, which is so characteristic of boats, had two basic functions:

- It is a warning to inform sailors of a change of watch. The organisation of the working day on board a boat is 4 hours of work followed by 4 hours of rest (unless, at certain times, all the crew are not needed for a particular manoeuvre), and the tolling of the bell indicates a change of watch.

- It is another of the boat's safety elements as it allows sound signals to be given when there is reduced visibility (fog, bad weather…).



Bells used to be made of bronze and had the name of the boat and the year it was built written on them, and they were placed near the helm – although in the case of the Santa Eulalia, it has been placed at the foremast.
Infos techniques
Lat : 41.3764198
Lng : 2.17995
0 m