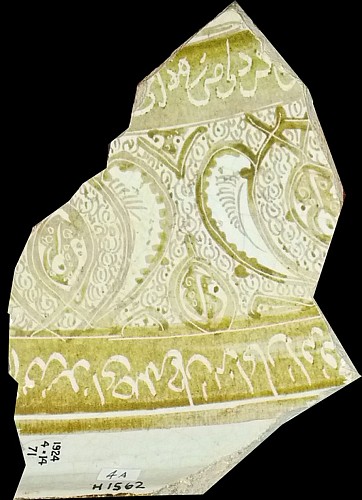 Pottery sherd from Middle East



In the 800s AD, Middle Eastern potters invented a new technique that spread around the world. To make their products look like they were made from precious metals like silver and gold, they painted them in a special way. These bowls and pots were called "lustreware" because they were so shiny.

This piece was part of a bowl like the one in Picture 2. It was probably made in Kashan in Iran. Kashan was a famous place for pottery in the Islamic world. The piece is painted yellow so it looks like gold. It has patterns from plants and flowers. The writing around the outside is based the shapes of Arabic letters.

Picture 3 shows a vase from Spain made in the 1400s. It uses the same lustreware style to make it look expensive. Once lustreware came to Spain, rich people in Europe wanted it and potters in Italy, England and other countries started to make it.


Infos techniques
Lat : 33.98399
Lng : 51.43647
0 m