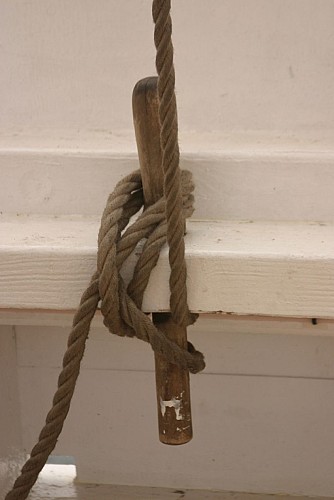 Knots are essential on board a sailing boat: they are the element that make manoeuvres safe and lend stability and solidity to the rigging.

There is a large variety of knots but all of them have to adhere to the following laws:

They have to be easy to make, without the need to look at them.

They have to be easy to undo, without the need for tools and even if they are wet.

They have to be resistent enough for the specific function for which they have been made.



To make a knot, you must know the element with which it is made: the rope. The end of the rope is called the working end (a rope will, therefore, have two working ends). The part of the rope that joins the two working ends is called the standing part; and the looped shape that this rope has when it is not pulled tight is called the bight.



For each situation or manoeuvre, a different knot is used.

We suggest that you try to make some of the most common knots on board a sailing boat.
Infos techniques
Lat : 41.3764198
Lng : 2.179907
0 m