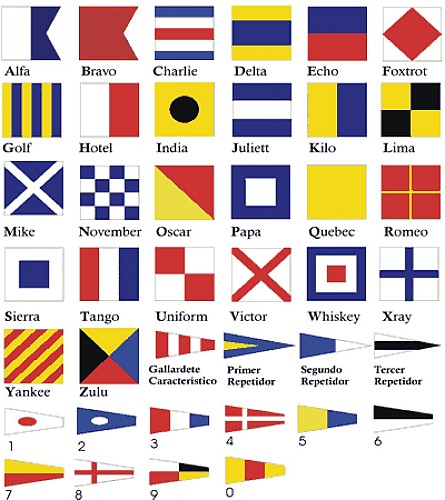 Communications systems at sea have evolved a lot: from the first shouts from boat to boat; up to the telecommunications used nowadays; through light signals, radio and telegraphs; all the systems have tried to find a solution to the important issue of communication between boats. One of the systems derived from an ancient code from C. XIX is the modern code flag system, that follows the International Code of Signs of the International Maritime Organisation, which is used by the boats of all seafaring nations.

This code allows messages to be transmitted between boats or between a boat and land, and it is based on raising flags with different shapes and colours representing letters of the international alphabet or numbers from 0 to 9.

In order to transmit a message, the chosen flags are hoisted on the mast nearest to the bow, from bottom to top. The flags can also be used in groups of two; in this case, they have a particular meaning.

This code is a little behind the times now with the arrival of new communications systems but it is still used at certain times, and all boats are obliged to carry it on board.
Infos techniques
Lat : 41.3764842
Lng : 2.1799929
0 m