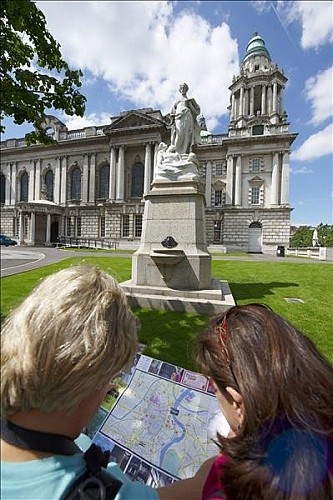 Belfast's City Hall takes up one and a half acres of prime city centre land and it cost an astonishing £360,000 to create, with the extensive building work starting in 1898, before it was finished a full 8 years later.

Set in the heart of Donegall Square this large open space and gardens is a popular area to sit and eat lunch or relax in fine weather. Be sure to look out for statue of Queen Victoria, by Sir Thomas Brock, at the main entrance.

As you look around Belfast you will notice that many historical buildings and places are named after Queen Victoria, as she gave Belfast its City status during a visit in 1888, when Belfast was the largest City in Ireland.


Today the City Hall is used as the headquarters for Belfast City Council, but standing outside you won't fail to notice the massive green, copper dome that houses a "whispering gallery", just like Saint Paul's in London. In fact, should you whisper against the walls on one side of the dome, your whisper will be heard all the way around on the other side of the gallery!

Since undergoing a major refurbishment, and reopening in 2009, a free tour around this significant landmark is both very worthwhile and popular. The tours are available on a first come first served basis and don't forget to try out some delicious local specialities whilst browsing around the most recent interactive exhibition in the Bobbin coffee shop.
Infos techniques
Lat : 54.597089645505
Lng : -5.9301173693116
0 m