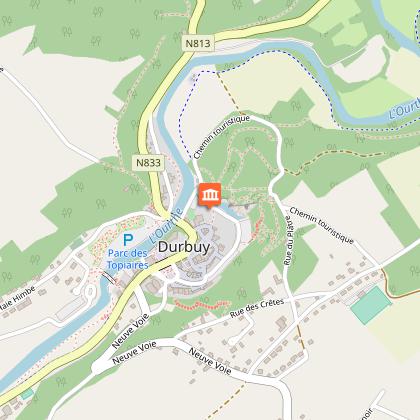 The history of the Recollet Monastery dates back to 1625 when Laurent Lejeune, Lord of Ambly and Canon of Maastricht offered his family house at number X to the Franciscans of Liège. A stone inserted in the gable, near to the church courtyard commemorates the event. At this time of Counter Reformation, the Franciscans regularly sent monks into the countryside with the aim of protecting the population against heretics. Among them, there were Recollets who followed the Ourthe from Liège to Durbuy where witchcraft was wreaking havoc.

In their house in Durbuy, the Franciscans accommodated 16 Recollet fathers. Surviving on charity, it was the financial aid and land that was given to them that the monks used to construct a chapel and a monastery on either side of the house forming a limestone quad with a cloister and a kitchen garden in the 17th century.

Always ready to listen and be at the service of others, the Recollets oversaw boys' education. They also trained future monks and it can be said that their presence cultivated the little town.

Following the forced departure of the monks in 1795, the monastery underwent significant transformations and irreversible alterations to accommodate a police station in the 19th century, followed by an orphanage and finally a school. The church of the Recollets was adopted by the residents of Durbuy around 1802 as their chapel, which was in a square near to the old market, had fallen into ruin. The parish priest moved into the Lejeune house which remains the presbytery today.
Infos techniques
Lat : 50.353392617541
Lng : 5.4573662785736
0 m