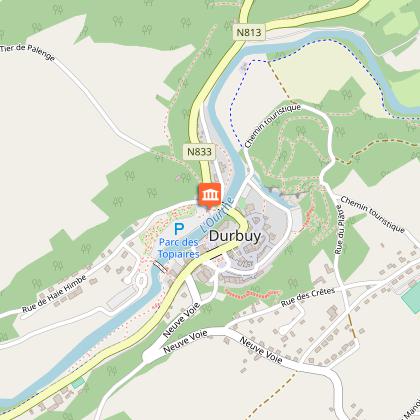 What would Durbuy be without its river? Over the course of thousands of years, the river Ourthe has shaped the countryside and enveloped the limestone that defined the opposite bank in a meander that no longer exists. The course of the ancient arm of the river that turned Durbuy into an island until the 18th century can be easily traced: the river eroded the rock as far as the Hôtel du Sanglier on the right and the rocks of the anticline on the left, where it re-joined the main river.

Protected by steep slopes, the small island was the ideal location for the construction of a fortress in the Middle Ages. It sprung up in the 11th century in the location of the current castle. From the 14th - 17th century, the town which developed at the foot of the castle was protected by a wall. It was 550 metres long, 6-7 metres tall and followed the river's course. At the site of the two current bridges, the wall has been interrupted with two drawbridge gates that controlled access to the town.

Today, Durbuy's old town retains its medieval arrangement and confined to a steep-sided valley and isolated from important communication channels, the town has never been able to expand. Durbuy presents a nugget of old uniformity: a handful of 18th and 19th century houses, two ancient convents, a corn exchange and a castle. Nestled in green surroundings, it really is a theatrical setting dominated by the grey limestone. But is that not what makes the 'smallest city in the world' so charming?
Lat : 50.3531
Lng : 5.45518
0 m