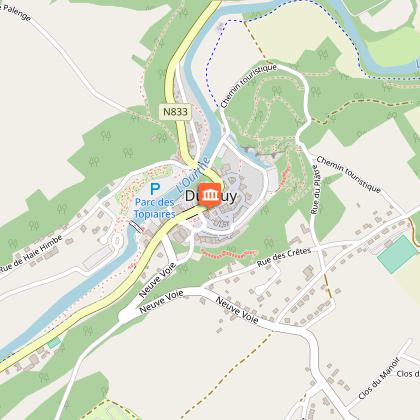 The Old Market & Corn Exchange

This is the oldest building in Durbuy. It dates from the 16th century and forms part of Wallonia's exceptional heritage.

Its existence is linked to the town status that Durbuy received from the House of Luxembourg more than 700 years ago. In one document dating from 1331, Jean de Bohême confirmed Durbuy's role as a stronghold and as an administrative and judicial centre. In order to fulfil all its roles, the town needed a public building. The original Market existed until the 14th century when it burned down. A new one was constructed around 1530 entirely from wood and cob and, twice as long as it is today, the building housed the offices where the mayor, the councillors, the urban militia and the provost who presided over the courts and the magistrates met. At the back, the building has a vast covered market that was removed in 1630. Gradually  the half-timbering was replaced with limestone as it required too much maintenance. The loft was occasionally used to store grain, which is why the building was subsequently named the 'Corn Exchange'. In the 19th century, the building became a dwelling.

 

Recently, archaeological research has allowed focussed restoration and the reassignment of the public building to an exhibition centre. The restoration work combined ancient techniques with modern ones, and introduced contemporary elements in metal, new wood and glass, while being careful to preserve the original features, such as the remarkable half-timbered gable.