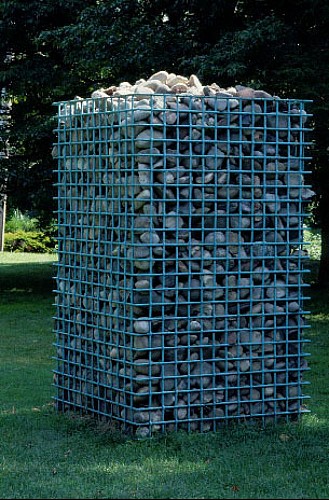 Woodmere's Outdoor Sculpture

Once the only sculpture on Woodmere's lawn, this work, Vetical Form 89-5 by Tom Sternal, remains one of the most popular with visitors. The sculpture is an 8 foot tall, standing blue crate made of woven strands of steel.  The stark unnatural blue grid of the container reads industrial. Within the crate are thousands of large gray river rocks, stacked to the brim. There is a great play between the organic shapes of the rocks and the machine-made exterior.  Consider the symbolism of nature being restrained by this man-made cage. Can man ever truly control nature?

Interestingly, the weight of the rocks causes the piece to sink into the earth, forcing the Museum to move the sculpture every few years.  Nature wins.

Tom Sternal taught at Muhlenberg College in Allentown and Morehead State University. His works are in the Allentown Museum, the Phillip and Muriel Berman Art Museum at Ursinus College, and of course at Woodmere.
Infos techniques
Lat : 40.0821219
Lng : -75.2198338
0 m