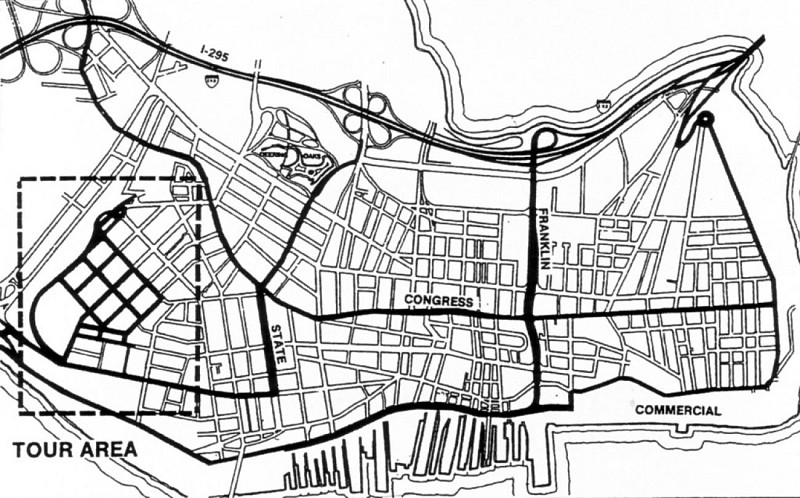 Western Promenade Walking Tour Introduction

History of the Western Promenade

Portland's Western Promenade neighborhood occupies a plateau edge with views of the White Mountains. The area contained a swamp and dense forest when first settlers arrived, remained undeveloped for two centuries, and became a place where people strolled, shot fowl, and picnicked. Development began when William Vaughan's bridge connected his property to town. Spectacular maritime prosperity in the 1800's begat the construction of elaborate private estates. The quality architecture is due to a succession of talented architects. Charles A. Alexander (1822-1882) provided designs for many of the earliest estates. Others who contributed to the development of the area included Henry Rowe (1810-1870) whose specialty was Gothic cottages and George M. Harding (1827-1910) whose ornate residences equal his better known commercial work in Portland's Old Port. Around the turn of the century, Frederick A. Tompson (1857-1906) designed many prominent area residences. By far the most influential and prolific architects of the area were Francis Fassett (1823-1906) and John Calvin Stevens (1855-1940). The leader of his profession in the 1870s, Fassett designed the Maine General Hospital, the Williston West Church, several schools, and his home on Pine Street. From the early 1880s to the 1930s Stevens worked in a wide range of styles from the Queen Anne and Romanesque, popular at the beginning of his career, to the Mission Style of the 1920s, but is best known for his pioneering efforts in the Shingle and Colonial Revival styles, examples of which abound in this area.
Infos techniques
Lat : 43.650825
Lng : -70.2761221
0 m