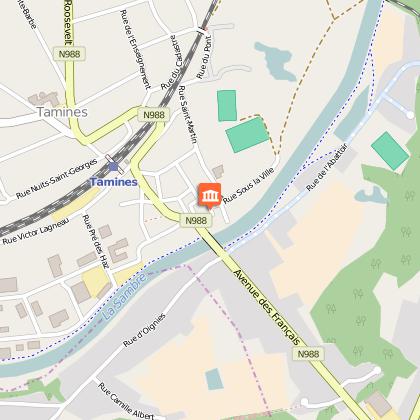 On the morning of Friday, August 21st, the German soldiers arrive by road in Tamines from Velaine sur Sambre. The battles against the French troops entrenched on the other side of the Sambre begin Friday. The strategy of the French troops consists in slowing down as much as possible the advance of German troops. The first exactions against taminois civilians are committed that same day by German troops.

Saturday 22, while fighting continues on the other side of the Sambre, the German soldiers who now hold the city of Tamines begin to systematically arrest the civilian population, taking refuge in the houses. Several groups of civilians are made ​​up andthe most important one is brought to the Church Notre-Dame des Alloux.

At around 7pm, German soldiers order the 600 men present to form a cortege which is then lead by the soldiers to Saint-Martin's square. They are forced to line up at the bottom of the square, back to the Sambre. The first shooting takes place at around 8 o'clock in the evening, at the sound of a whistle. The German platoon opens fire on the compact mass formed by men.

By then, many of the civilians are already mortally wounded while others fall to the ground and get covered with corpses. A group of soldiers then moves towards the pile of dead and wounded, and finish them off with their rifles' bayonets, clubs and axes. Survivors lying among the corpses of the victims are forced to spend night on the spot, surrounded by soldiers on guard.

 
Sambreville
Lat : 50.4314
Lng : 4.61396
0 m