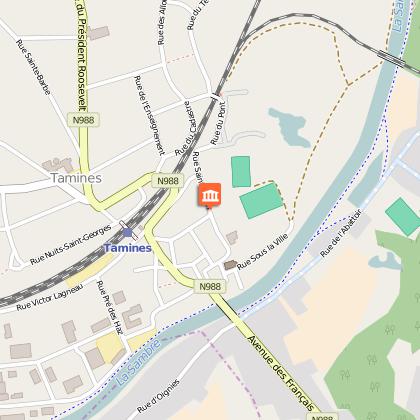 On the early morning of August 1th, 1914, German cavalry, spearhead of the invasion, enters the territory of Belgium. German's campaign plan, conceived in 1905 by General von Bülow, foresees to pass trough Belgium territories in order to directly attack France from the north. After rough fighting, Liège surrenders on August 8th 1914 allowing German troops to rush to Namur and Charleroi.

On August 20th, German soldiers arrive close to Tamines surroundings where the 19th division of the X French army corps, commanded by General Lanzerac, is entrenched.

The objective of the French troops is to prevent German troops to cross the Sambre. For two entire days, heavy fighting will oppose French and germans troops causing many casualities on both sides.

The fighting ended, the German soldiers will carry out the arrest of Tamines's civilians regardless of age or sex. Most of the civilians arrested are gathered in the church of Alloux north of the town.

By late afternoon of Saturday, August 22, 1914, men are led on the Place Saint Martin, on the banks of the Sambre, where they are regrouped. The Germans open fire and shoot the 600 men concentrated on Saint-Martin's square - 315 of them will find death.

 

 
Sambreville
Lat : 50.4332
Lng : 4.61334
0 m