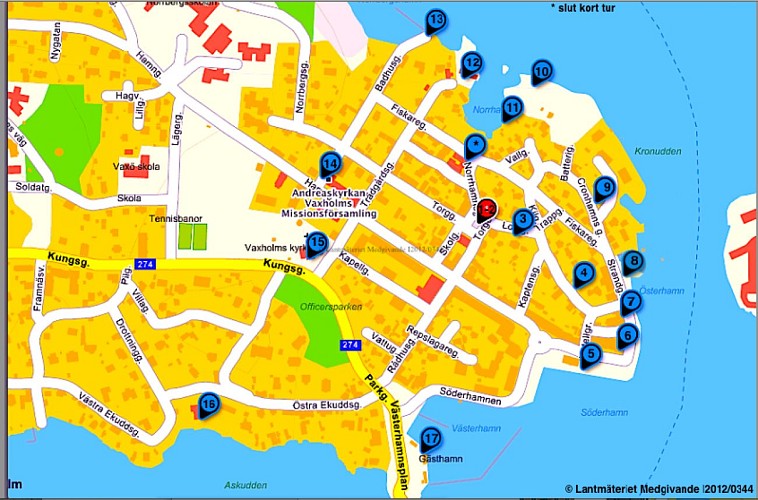 VAXHOLM

Welcome to Vaxholm, the small town offering history, art, culture, and handicrafts. This pleasant town on the estuary of the Stockholm archipelago is surrounded by water, where everything is within walking distance, and where there is something to stimulate all the senses. The town offers wonderful views, interesting history, good food and fine bathing. 

New this year is a guided tour i Vaxholm using your Smartphone. The iBeaken signs are placed as follows:

1 Tourist Office - 2 signs on the column outside Town hall.

2 Town Hall - next, walk across the square to the right, up the slope to nr 13.

3 Lotsgatan -next,  follow the street to nr 9

4 Pilots houses -  next, take to the stairs on right hand side.

5 Söderhamnen -  sign on the column outside Waxholmsbolaget. Next on the tree in at the hotel quay.

6 Waxholm hotel -  next 2 signs on the grey small building opposite the Fortress.

7-8 The Customs house and the Fortess. Next ,near the red houses straigth ahead.

9 Cronhamns gata- next at the Battery Park.

10 The Battery Park -  to the left near the stairs to Norrhamnsbadet. Next through the gate .

11 Norrhamnen -  sign near the fence. Next Hembygdsgården. Up Cronhamns gränd, to the right on Vallgatan, to the right on Fiskargatan and to the right on Trädgårdsgatan.

12 Hembygdsgården - next, follow the path behind the house .

13 Norrbergshamnen - next straight ahead on Badhusgatan.

14 Andreaskyrkan - next across the street behind the churchs belltower.

15 Vaxholms kyrka - next across the street , up Rosenbergsgatan down to the water.

16 Roddarhuset - next to the right on Ö.Ekuddsgatan to the Guest Marina. Sign on the gable of the Marina office. 

Welcome back!
Lat : 59.4035
Lng : 18.3512
0 m