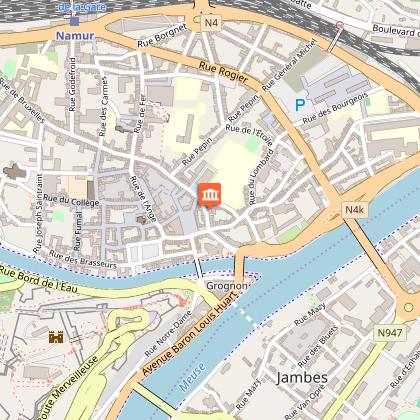 The Marie Spilar tower, as do the Saint-Jacques and Monnaie towers, are remains of the thirst enclosure of Namur, erected during the 13th C. and from then on rebuilt in stages since 1388. The tower takes its name from its location as it was built behind the property of Marie Spilar under the instructions of the master builder Henri Merial.

 

The Marie Spilar tower is semi-circular and built of calcareous Meuse stone. The lower ground, practically entirely cast in darkness, is pierced by three arrowslists. The two side arrowslits were there to defend the enclosure walls, whose entrance door was visible to the enemy.

 

On the second floor, the mantelets, portable screens which protected the defenders of the tower against archers or crossbowmen, have today been rebuilt. Skylights were added to the slate roof as well as a chimney stump during the structures restoration.

 

The tower used to be surrounded by densely packed habitations for years and was therefore unknown to the people of Namur. It was hit and damaged during the American bombings on the 18 August 1944 and restored in 1949. Local authorities then decided to clear it's surrounding and thus named the rue de la Tour.
Lat : 50.4635
Lng : 4.86835
0 m