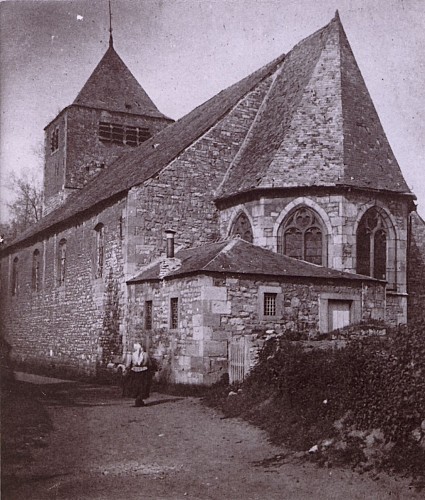 Even though it is mentioned for the first time in 1198, the church, built on the remains of a roman building, is in fact a lot older. By the 8th C. the heavy networking of parishes controlling the territory was fully established. During this era, a parish was an ecclesiastical constituency whose borders were drawn up along the lines of existing large estates. Whether it was a public or royal estate, the fiscus of Vedrin could have possibly turned into the Frizet parish and been the location of it's original church. This seems to be supported by an imperial diploma written in 839 as well as by a coin of Charles the Bald, dating between 869 and 875 whose tail side references Vedrin.

 

 

The old church of Saint-Martin has been abandoned since 1892, its ruines visible in the valley of the Frizet river, on the land belonging to the ancient counties of Vedrin and Saint-Marc. Built from calcareous rubble it used to form three naves and a polygonal choir. Gothic in style, the choir as well as the first four bays of the main nave date back to the 16th C. The fifth bay and the lateral naves, more classical in style, date back to the second half of the 17th C. The porch to the front of the church, which had been added onto the structure in 1831, has now almost completely disappeared. The inside is also completely exposed since the roofs came down during the First World War, only a few rare remains of the 18th C. ceiling can still be seen, as well as a couple of tombstones.

 

Up until the 1802 Concordat, Frizet was the centre of a vaste parish covering 3200 hectares. 
Infos techniques
Lat : 50.497063357259
Lng : 4.8643436703613
0 m