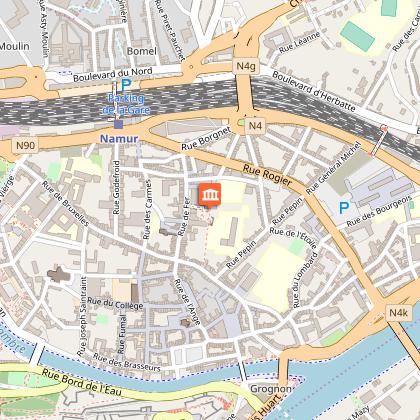 The Walloon Fresco was inaugurated on the 18th September 2004 during the traditional Walloon Festivities. This huge trompe-l'oeil style fresco covers 300 m2 of wall grouping together around 250 Walloon references, with some very specific to Namur itself.



Through a clever exhibition of book covers, CDs or posters, an array of celebrities and cult figures, sports personalities, folk legends and historical figures are displayed in 6 windows at the bottom of the fresco, paying tribute to Benoit Poelvoorde, Adolphe Sax, Henri Michaux, Félicien Rops, Amélie Nothomb, Paul Delvaux, François Walthéry, Gérald Watelet, Salvatore Adamo, Maurane, Justine Hénin, Miss Univers 1931, the Aymon boys to name but a few.



Six key figures appear at the windows:



Charlemagne, king of the Franks who was crowned emperor in 800 AD and whose empire swept from Spain to Germany.



Dominique Pire (1910 – 1969), Dominican Friar who was awarded the Nobel peace Prize in 1958. He founded the Peace University in 1960 and the Peace Islands project in 1962.



Georges Simenon (1903 – 1989), who wrote the Commissaire Maigret novels, 300 books in 34 years.



Blanche de Namur who died in 1363. Daughter of the Marquis of Namur, John 1st, she became Queen of Norway and Sweden.



Ernest Solvay, an industrialist who worked towards social justice, born in 1838 and died in 1922.



François Bovesse (1890 – 1944) who was a lawyer, a politician and a writer and founded the Walloon Festivities.





A few fun references can also be found livening up the fresco: the stilted artists or "échasseurs", the painter Albert Dandoy, the Marsupilami, the smurfette, local delicacies or the Walloon cockerel!



The remaining free space on the fresco will be completed little by little by adding small glimpses of local history.
Infos techniques
Lat : 50.466323373616
Lng : 4.8664464153442
0 m