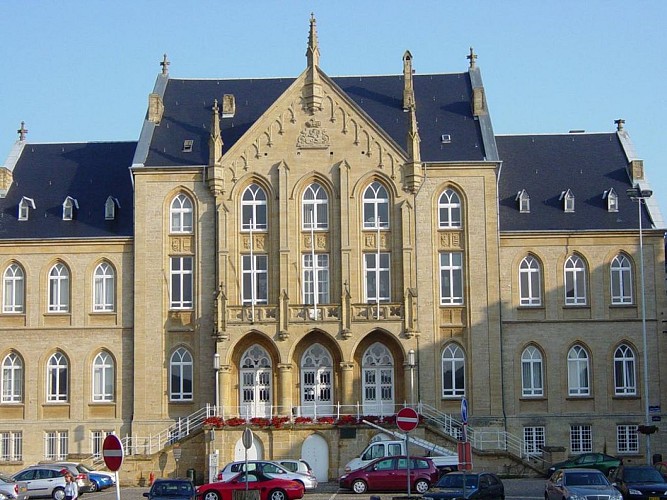 Seat of the Provincial Government and old Law Courts

It was in 1839 that Arlon was finally designated as the administrative capital of the province of Luxembourg. In 1844 the architect A. JAMOT was commissioned by the City to create a complete new quarter around the future Place Leopold. The Palais Provincial was inaugurated in 1849. Further work was carried-out following fires in 1905 and 1917. Since 1947 various internal renovations and alterations, along with the construction of an extension in 1974, have seen to it that the building remains appropriate to its purpose of housing the provincial administration of Arlon. The Palais Provincial and its surroundings were listed in 1981.

Situated on the north side of the Place Leopold, you will see the Old Law Courts. These were constructed between 1864 and 1866 to a design also by architect Jamot and  based upon 15th century gothic style both externally and  internally. The arms of the Province are emblazoned on the tympanum, whilst  those of the ten towns of the Province are also represented( from left to right they are La Roche, Bouillon, Houffalize, Virton, Neufchateau, Arlon, Marche, Bastogne, Saint-Hubert and Chiny). In 2003, the judicial services were transferred to the new Law Courts at Place Schalbert.
Infos techniques
Lat : 49.682941336357
Lng : 5.8127276907379
0 m