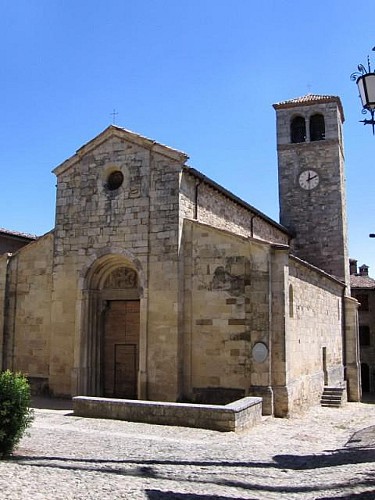 It's devoted to the Holy Virgin of Mercy, also called Madonna of the milk. It has a latin cross plain, with the lateral arms which all have the same dimensions.

 

The front of the Oratory, very high and elegant with the warm and concrete tufa's colour, is separated from the other buildings by high pilaster strip surmounted by elegant attic capitals. The 'tufa tympanum' holds the Scotti family's armorial bearings, with two festoons representing 'abundance' (fruit and leaves).

 

The inside is very simple and austere and maintains this atmosfere of harmony that only the seventeenth century building could have. In the apse a fresco representing the Virgin who nurses the baby closed in a gold ancon.

 

The ancon of the left altar, dedicated to the Madonna of the Rosary, is framed with 15 fresco titles, representing the 15 misteries of the Rosary.

 

The Oratory of the Madonna of the Milk was the castle's crape and it was originally dedicated to Saint Rocco, protector of the pilgrims.


 
Infos techniques
Lat : 44.8166716
Lng : 9.9010406
0 m