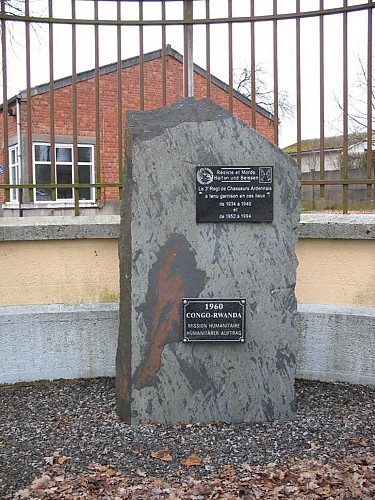 In front of the entrance, stele commemorating the fact that the 3rd CHA were garrisoned here from 1934 to 1940 and from 1952 to 1994.

On the left after entering the barracks, there is a commemorative plaque to Sergeant Ratz of the 10th Line Infantry (predecessor of the CHA), who was killed in 1917, and gave his name to the barracks. The drive is now called "rue du SergentRatz".

The former barracks was converted into a zone for traditional craft businesses, and the central square is known as: Place des Chasseurs Ardennais.As for the rue des Chasseurs Ardennais, it begins at the intersection below the church, running towards Lierneux, past the entrance to the business zone and extending to the first houses of Goronne (the neighbouring village). 

InfoSalm : +32(0)80/21.50.52.
Infos techniques
Lat : 50.287392422147
Lng : 5.9031797671509
0 m