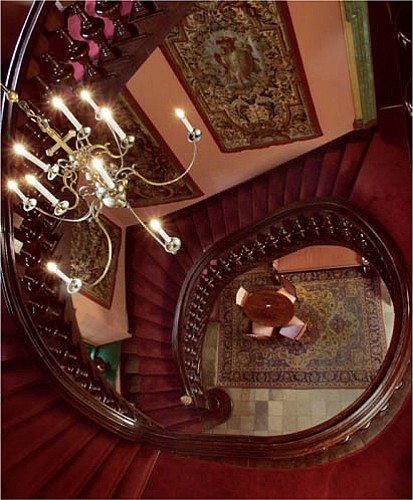 Musée de lUniversité Jagellon

Collegium Maius, situated at the corner of St.Anna and Jagiellonska Streets, is the oldest university edifice in Poland. Its history goes back to the year 1400, when King Wladyslaw Jagiello purchased the Pecherz family's corner house and donated it to the University. The actual walls of the Pecherz house have been preserved in their foundations and on the side overlooking Jagiellonska Street. This is easily traceable by observing the wild-stone compositon, so typical of the 14th century. The house was not large and hardly could hold the University activities. During the 15th century Collegium Maius was extended. The University was able to purchase the houses contiguous to the College and to combine them into a harmonious whole, complete with a courtyard enclosed with a ring of arcades, interrupted with the professor's staircase, leading up to the first-floor balconies.

On the ground floor there were lectoria, i.e. lecture rooms, low-vaulted, dark and often wet rooms. On the first floor were the Library (added c.1515-1519), the Stuba Communis (refectory for Professors), the Treasury rooms and the Asembly Hall. The Professor chambers were located all over the building.

Up to the second half of 19th century the appearance and interior arrangements of the Collegium Maius didn't change much. The neogothic reconstruction in the years 1840-1870, changed the original face of the Collegium and transformed it into the University Library, which used the building up to 1940. Between 1949 and 1964, on the personal initiative of Prof. Karol Estreicher Jr., the whole building underwent a major refurbishment and conservation, shedding all superfluous neogothic additions, that effectively blurred the austere elegance of its original structure. It this time the Collegium Maius was also designated as the seat of the Jagellonian University Museum, home to ancient university collections, including the collection of the old scientific instruments.

 
Lat : 50.0616
Lng : 19.934
0 m