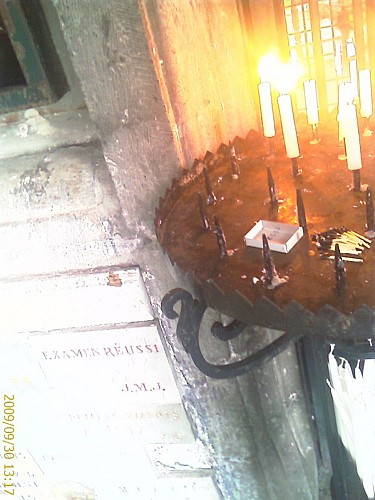 This small baroc chapel along the road is dedicated to the 'Notre Dame des Affligés' (Our Lady of the Suffering).



The original sanctuary was a wooden structure which was erected in the 16th century around a 'miraculous spring'. It was rebuilt by the people of Jumet in stone and brick in 1677 according an octogonal plan. Above the original chapel you'll find the inscription : 'hanC pIVs aeDeM ereXIt popVLVs' (= this building was erected by the pious people) - which shows us the date of construction : 1677.

Only 30 years later the small 'entrance' was added...
Above the doorstep the inscription 'Marie Le seCoVrs Des affLIgéz' gives us the date of the last adding : MLCVDLI or 1707.

The devotion to the 'Notre Dame des Affligés' is so ancient that the origin of it has not been found. We know, from the pastor Henri Wiron, that in the 16th century pilgrims came here every year for the 25th of march (Annunciation) and the 2nd of july (Visitation).

The Jumet families Van den Steen, de Borfillet, Munster, de Vigneron, Daubrousse, Lyon and Bastin competed with each other in generosity.

The pope Clemens XI accorded a full indulgence for all people visiting the Chapel and praying for him.

More and more people came to the chapel when one of the children of the Marquis de Trazegnies was healed miraculously (I don't know though what the child was suffering from...)

In four hundred years, many miraculous healings have been registered here, leaving lots of sayings on the wall - witness of the faith and gratitude of pious people...


Infos techniques
Lat : 50.454662439883
Lng : 4.4277477264404
0 m