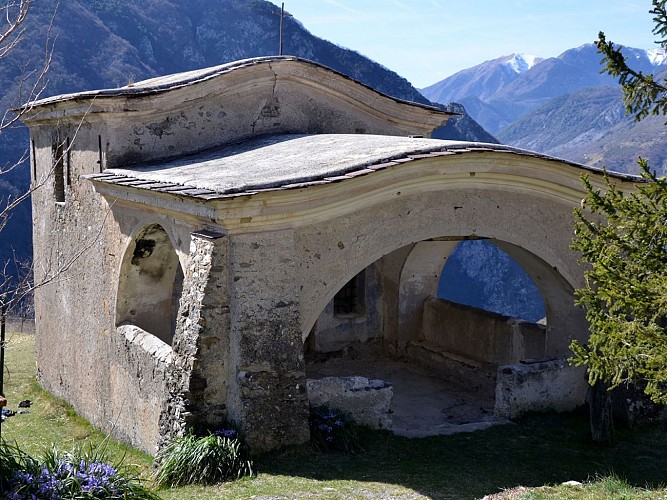 A Sunday walk for the Saorgians, ideally situated for a picnic break or a snack with the children, a siesta or a meditative contemplation in front of the beauty of the slopes sculpted with restanques and the wild canyon of the Bendola.
This pretty country chapel is one of the many chapels built in the Roya in the 17th century during the Counter-Reformation.
Located on an overhang overlooking the Bendola valley, it is preceded by a vaulted porch.
The roof on a masonry vault has a particularity that is frequent on the "casouns" (small houses outside the villages) of the Roya with a shape known as a "gendarme hat".
Its watertightness is ensured by a layer of lime mortar, which follows the curve of the extrados, softened as it reaches the side walls.
Overlooking a magnificent site sculpted with restanques, perpendicular to the slope, it would have been raised following a vow.
An annual mass was celebrated there by the Saorgians, in the presence of the town council, on 14 September, until the Second World War.

The Sainte-Croix chapel is easily reached from Saorge from the Monastery, by the path "Derrière le couvent" which is also the itinerary of the panoramic GR 52A between La Brigue and Saorge: half an hour walking quietly, and contemplating the restanques which sculpted the mountains into as many staircases and where the peasants of yesteryear cultivated rye and rustic wheat. You will contemplate the steep canyon of the Bendola, one of the most difficult in Europe, to be done over two days, a deep cut towards the cross-border mountains, Marta, Petravechia and Torragio.
Technical information
Chapelle Sainte-Croix GR 52A
06540 Saorge
Lat : 43.991079
Lng : 7.575022
670 m