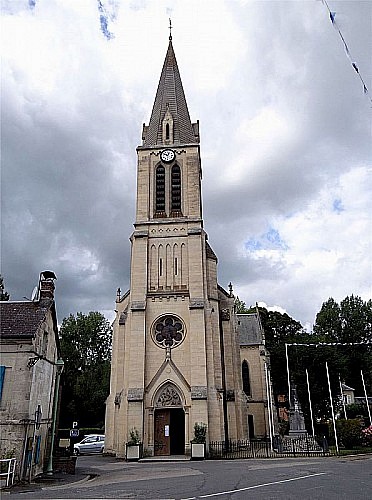 A very beautiful church of the Neo-Gothic type. It faces west, and is built according to a Latin cross plan. The transept is protruding and the apse is polygonal.

Framed by buttresses, the bell tower-porch has four levels of elevation. It has a portal, crowned with a sculpted tympanum inserted into a gable. The rose is surmounted by a row of blind arches and a level of arched bays fitted with lampshades. Square in section, the bell tower ends with a polygonal spire, topped with a ridge cross.

The church is covered with a saddleback roof. The gutter walls are punctuated by bay windows in pointed arches and are supported by buttresses.
It was built in the 19th century and is in the Neo-Gothic style.

A very beautiful church not to be missed.
Infos techniques
2 Rue de Trouville
14340 Bonnebosq
Lat : 49.2054193
Lng : 0.0777197