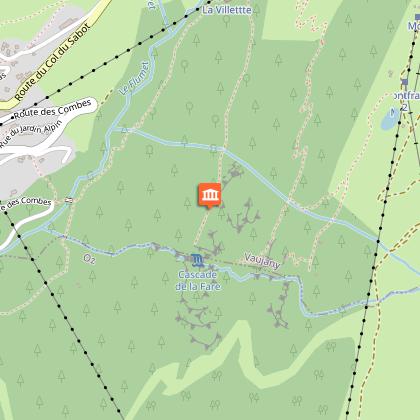 History of a small mountain village
In this small mountain village the resources were mainly cultivation and breeding. R. Blanchard writes: "The mountain dweller was above all an alpine peasant dedicated to a culture of perseverance".
A society based on work, mutual aid, and little consumption. Rural life in the hostile mountains, however, shapes free communities, whose inhabitants have never known serfdom. Our mountain people call themselves free and frank! They did everything themselves, and the little money they had was used to buy land. To put it another way, the capital represented the purchase of an animal, let's take a cow as an example, and the interest was represented by the birth of the calves. Vaujany experienced two major periods of modernisation: the arrival of the Grand Maison dam and the exploitation of the mountain pastures as a ski area.

This rural life, hard, knew the rural exodus. The wars having taken the men, a form of matriarchy was born from the First World War. The women understood that life here would be difficult and sent their daughters to get an education to try their luck elsewhere. Proverb: "Always the goat goes up and the woman goes down! ".
In 1972, the first engineers arrived to explore the land and organise the future of Vaujany. The inhabitants were afraid of being expropriated, and rumours were circulating, causing much turmoil.

In the 1980s, a Dantesque project was born: the construction of the Grand Maison dam, which was completed in 1985. The commune was about to turn a page in its rural history. From now on, the future rhymes with possibilities: Vaujany enters a modern era.

In the 1990s, while the resort of Alpe d'Huez was already welcoming ski enthusiasts, Vaujany had long been eyeing its alpine heritage, ideal for skiing. This project is coming to fruition, and the first lifts are being installed. The white gold opens up new development possibilities. The cursed snow of yesterday has become the treasure of today!
Tourist residences are being built. The dwellings are developed in a mountain style: concentration of dwellings, choice of materials, limited number of floors in buildings. All these rules ensure the coherence and homogeneity of the village, giving it its soul.

The buildings: the village develops from the top to the bottom of the mountain, clearly visible from the viewpoint of the waterfall. Three levels appear: at the bottom of the village the sports facilities (skating rink, swimming pool, bowling alley, day care centre), in the middle the cable car square and its shops, then at the top of the village the Place de la Fare.
An open mind represents the inhabitants of Vaujany who have adapted well to all these changes.
Infos techniques
38114 Vaujany
Lat : 45.15534
Lng : 6.08951