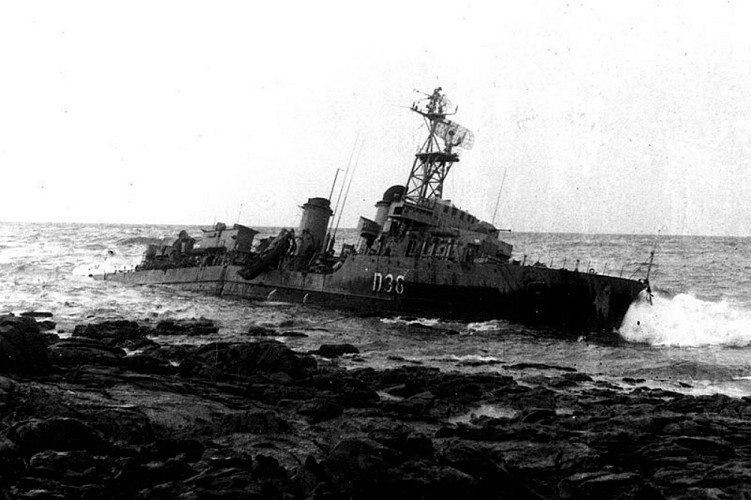 Every navigation off the Costa da Morte has paid a tribute. All the nations with maritime activity have numerous examples sunk in our waters, some belong to private shipping companies and others to their military navies, and the Spanish Navy was not going to be an exception. Its traffic in front of Galicia had to pay a tribute in sunken ships that today are part of our cultural heritage.

On February 25, 1966, around ten o'clock at night, the frigate Ariete ran aground on the beach of Ardeleiro in Lira. This frigate of the Audaz class, built in Ferrol and launched in 1955, was 94 meters long and had a displacement of 1552 tons.

After leaving Ferrol towards Cartagena on February 24, 1966, they encountered a progressive worsening of the weather, reaching force 9 winds with gusts of 120 km/h, which caused serious damage to the ship to the point of leaving it practically without any steering.

After alarm signals, an oil tanker and the destroyer Legazpi managed to give her a tow which in the end broke up, leaving the fate of the Ariete sealed.

The heroic behavior of the neighbors of Carnota who came to the rescue, in some cases throwing themselves into the sea without assessing the risk to their lives and with the characteristic courage of the people of these lands, made them earn 67 Cross of Civil Merit, 168 people were saved.

Four decades later, half a hundred crew members returned to Lira to relive that sinking. The military gathered in the vicinity of the sanctuary of the Virgen de los Remedios, where a monolith was inaugurated in memory of the tragedy.
Technical information
Lat : 42.7950846
Lng : -9.1494112