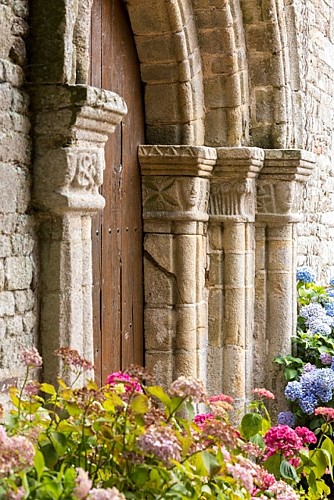 The church presinct of the Vieux Bourg of Saint-Lormel
Le Vieux Bourg de St-Lormel peut être aussi un point de départ pour cette randonnée.
The Vieux Bourg of Saint-Lormel (old village centre) can also be the starting point of this hike.

This quite typical medieval religious site is made of a church, a church presinct and two millenarian yews.
This church went through the centuries! Built in a Romanesque style on the ruins of a Gallo-Roman building, she's dated from the 9-11 centuries. It is dedicated to saint Lunaire, a Welsh monk who then became a bishop, who is no other than saint Lormel or saint Léonor ! Its sculpted gates are very unique, as the calvary (17th century). it will be restored, partly rebuilt, in the 18th, 18th, 19th and 20th centuries.
It was surrounded by the graveyard, which explains the presence of two millenarian yews, symbol of immortality since the Celts.
This ensemble is listed as an Historic Building.

Retrace your steps and, at the bridge, take the other bank of the Arguenon River. After the bridge on the Montafilan and the view on the Largentaye castle (6), go back up on the left path that runs under the trees.
Infos techniques
Le Vieux Bourg
22130 Saint-Lormel
Lat : 48.536
Lng : -2.22808
0 m