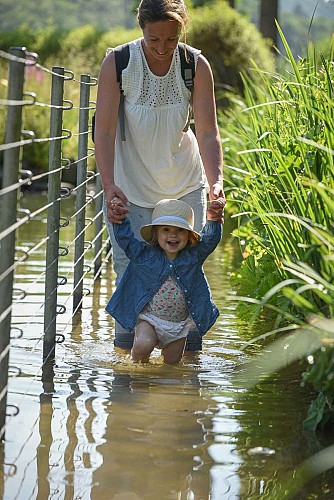 In the heart of the Normandy bocage, set off on a one-hour walk, bare-footed in a landscaped garden, planted with 6,000 different plant species, 50 different materials, over a 600 metre-long path, with two waterways, one with a suspended walkway, decors from across Normandy, at the foot of the Souleuvre viaduct.

Your feet experience a range of textures as you advance along the path. And both kids and their parents enjoy a pleasant stroll that arouses all five senses.
Amidst the flowers and aquatic plants, you can admire a miniature Mont Saint-Michel, the Clock Gate in Vire and a cider press.

A garden of naturalist inspiration including many long grasses, some over 2 metres high, and a few rare plant and tree species, such as the dove-tree (aka handkerchief tree),
an area on the specific theme of Normandy with regionally-inspired decors, coppers, potteries, granite, cider press and miniature reproductions of local monuments - the Vire Clock Gate and the Mont Saint-Michel, installed in the middle of a pond. A second pond is home to water lilies and the sensory path is made of over 50 different materials.

Also on site: track sled ride, challenge area, play area, snack bar-restaurant, bungee jumping base, zip line, etc.
Infos techniques
Lat : 48.9487298
Lng : -0.8623474