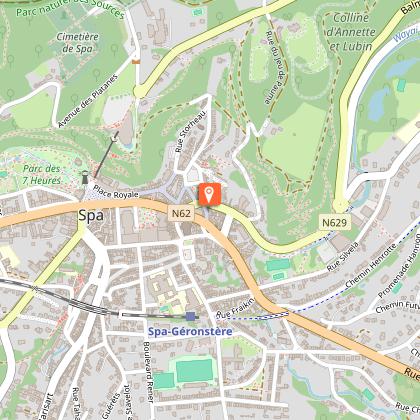 Fremdenverkehrsamt von Spa
Welcome to Spa! If you are looking for wellness and relaxation, you won't be disappointed. Spa is an amazing city full of surprises.Certainly, the gods of Tourism were present at its birth. Spa is synonymous with the art of living surrounded by green spaces. It's a place where you stop, because you feel good there.Spa, an authentic thermal health resort, is the birthplace of modern thermal treatments.Spa deserves its place among the Great Water Cities of Europe. The town has applied for inclusion on the UNESCO World Heritage List, alongside ten exceptional spa towns such as Vichy, Baden Baden and Bath.The application was officially submitted to the UNESCO World Heritage List in January 2019. The response is expected in July 2020.We would like to thank you warmly for your presence at SPA, a place we cherish.
Infos techniques
1 Rue du Marché
4900 Spa
Lat : 50.49218
Lng : 5.86786
1 informations complémentaires
Période et horaire d'ouverture (EN)
FREMDENVERKEHRSAMT VON SPA EIN TEAM, DAS SIE WILLKOMMEN HEISST!Das Fremdenverkehrsamt von Spa ist täglich geöffnet, außer am 25. Dezember und am 1. Januar.
HAUPTSAISON (01.04. bis 30.9.): wochentags von 9 bis 18 Uhr, donnerstags und am WE von 10 bis 18 Uhr.
NEBENSAISON (01.10. bis 31.3.): wochentags von 9 bis 17 Uhr, donnerstags und am WE von 10 bis 17 Uhr.