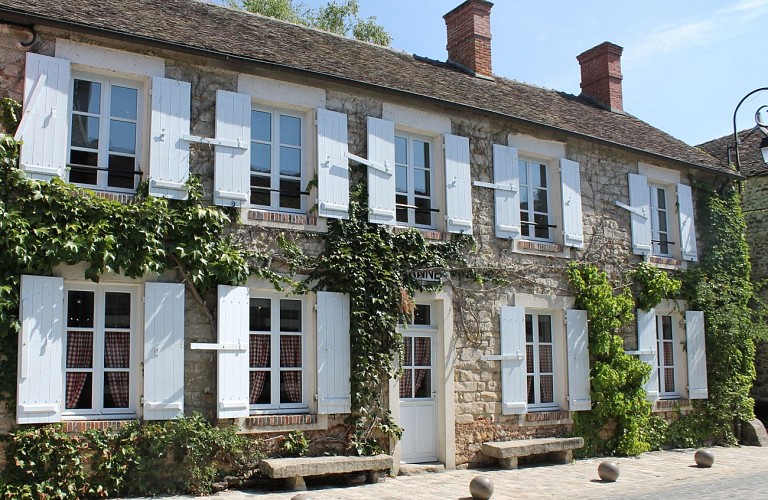 Barbizon school museum: the Ganne Inn
It is difficult to know precisely when the inn was built.
Before 1820, the only inns in the region were at Chailly.
Alfred Sensier, friend of Théodore Rousseau and a historian of Barbizon, gives the date of 1824.
A return to the time of the painters of the forest of Fontainebleau. The museum of the school of Barbizon is spread over two sites : the Ganne Auberge and the Workshop-House of Theodore Rousseau. One is the principal historical way-points of the artists who came to work in the forest of Fontainebleau (1830-1875). The other is the Workshop where the famous landscape artist Theodore Rousseau lived from 1847 until his death in 1867. The Exhibition Rooms of the Auberge restore the friendly atmosphere so dear to the Peint'à Ganne, thanks to the furniture and decors and through a hundred different works (Jean-François Millet , Narcisse Diaz de la Peña , Constant Troyon , Rosa Bonheur...).
Luck has had it that the newspaper "L'Illustration" published a full report in 1853, illustrated with engravings, showing the pictorial treasures hidden inside this modest inn, the major part of which has come miraculously down to us.

The very serious Revue des Arts published in 1854 a guided tour of the three ground floor rooms and detailed the decorations.

Has have helped us reconstruct the rooms at the inn at its most brilliant period.
The painted furniture and panels and the way the rooms are presented are a good representation of the painters' inn.
The restoration of the upper floor started in 1990, has revealed decoration painted or drawn by the artists when staying in the rooms.
Three exhibits show the work of the Barbizon School with landscape and animal themes.

A very attractive audiovisual presentation takes you back to the time of the painters of the Barbizon School Leaving behind them Parisian studios and academicism, the "painted in Ganne" came together in the Auberge de Barbizon to paint "sur le motif" and for very bohemian parties.
Infos techniques
92 Grande rue
77630 Barbizon
Lat : 48.446219
Lng : 2.602639
0 m
5 informations complémentaires
Open period
From 02/01 to 22/12
Opening hours on Monday, Wednesday, Thursday, Friday, Saturday and Sunday between 10 am and 12.30 pm and between 2 pm and 5.30 pm.
Closed on Tuesday.
Closed exceptionally on May 1st.
Updated by
Seine et Marne Attractivité - 28/07/2020

Price(s)
Full price: 6 €
Reduced price: 4 €.

Free entry for children < 18 years, Job-seeker, the students, disabled people and accompanying persons.