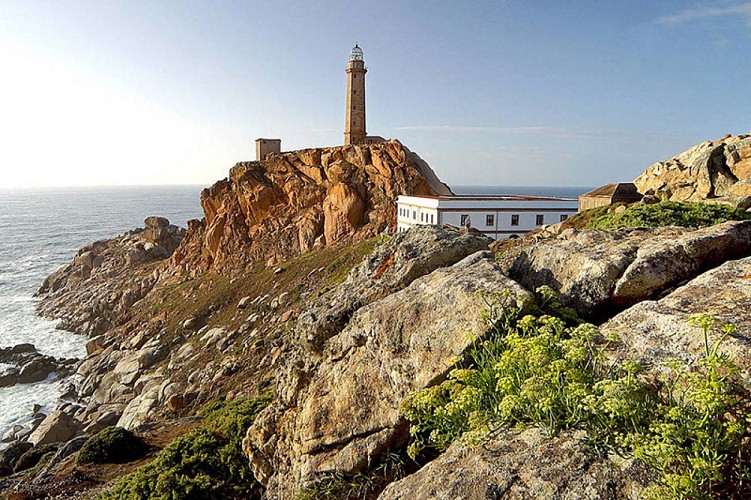 The town of Finisterre, a name derived from the Latin finis terrae, has captivated since ancient times a multitude of people who longed to see the end of the world, where the land ends and the sea begins, or at least that is what the Roman legions believed when they contemplated the sinking of the sun in its waters.

Ancient Greco-Roman geographers locate here the Promontorium Nerium and the Ara Solis, the altar of worship to the sun, built by the Phoenicians and that the Apostle Santiago himself had it destroyed shortly after.

The uniqueness of Finisterre arises from the many legends that surround these lands, in which religious, maritime and stone elements are combined. Thanks to the memory of the people of this place, these legends are still alive, captivating, along with the wonderful views that Fisterra has, to anyone who comes to visit the End of the World.

Finisterre is formed by an old nucleus grown in an amphitheater over the port. Its houses and narrow streets are very typical and original. In the center is the Plaza de Ara solis, on the outskirts, we find the most interesting monument of the town: the Church of Santa Maria de las Areas and within the historical complex of the town, also highlights the Castle of San Carlos. But a must-see is the lighthouse built in 1853, 138 m. above the sea, which protects one of the most dangerous coasts in the world.

It is known by all the navigators of the world, for its importance as a means of warning of the proximity of an extremely dangerous coast, its light reaches 65 km in length, as well as for the reputation of treacherous of this maritime area.

It is the most western and emblematic lighthouse in Europe, traditionally considered as the cape of the end of the world, "Finis Terrae".
Technical information
Lat : 42.9078005
Lng : -9.2650315