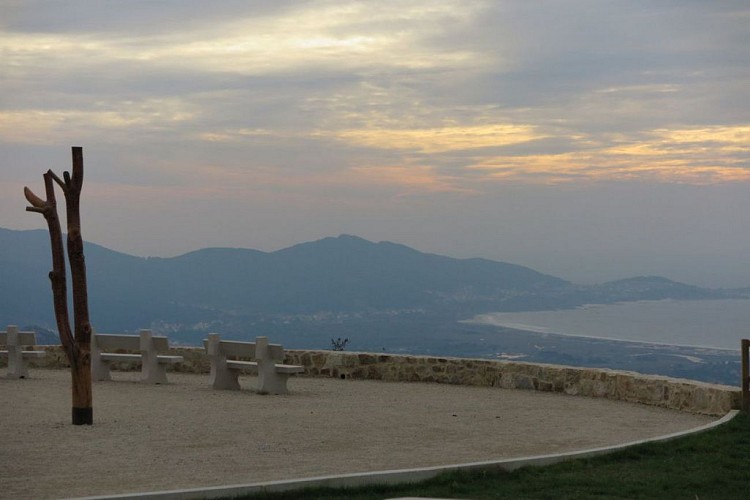 Viewpoints: Louredo and Lira
There are three ways to get to Carnota, two of them are bordering the coast and another accessing from the interior. If you decide to do it by the second one, the entrance in the municipality is spectacular. At the moment the descent towards Carnota begins, the picture of the kilometric Carnota Beach takes all the protagonism and there, in the same place where the Atlantic opens the way, you will see for the first time the longest beach in Galicia with more than 7 km of fine white sand. It is no coincidence that there is a viewpoint in this place. Visitors have always felt the need to make a stop to contemplate the privileged views offered by this place and immortalize the moment. The viewpoint is equipped with a small picnic area, information panels, a succession of U-shaped benches overlooking the beach of Carnota and also has a representation of the Carnota artist "Nando Lestón" who recovered burned trees during the last fire in Monte Pindo and gave them a second chance.

From the Mirador de Lira on clear days you can enjoy spectacular panoramic views of the southern part of the Costa da Morte. You will be able to see simultaneously the Lighthouses of Lariño and Fisterra. The viewpoint is located in the high part of Monte de Lira taking advantage of the orography of the land. It has a rest area nearby and a representation of vertical slabs that include replicas of petroglyphs, work of the sculptor "Xosé Cernadas". Despite being one of the viewpoints of the City Council that offers some of the best aerial views, it is not the most visited due to the narrow accesses that lead to it.
Technical information
Lat : 42.8620306
Lng : -9.0695099