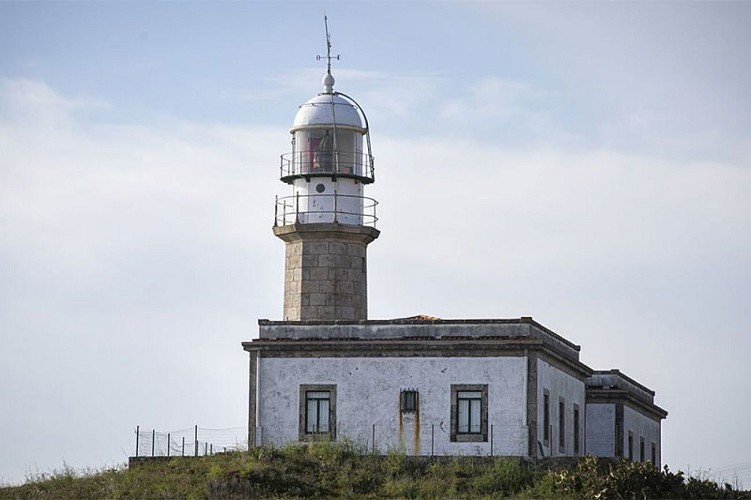 Lariño Lighthouse or Punta Insua lighthouse
Also known as Punta Insua Lighthouse, it is a building that deserves to be visited due to its architectural peculiarity and the beauty of the place where it is located, especially its sunsets. It was built between 1913 and 1921. It is located in Punta Insua, which is the geographical point that helps to fix the entrance to the arch of Fisterra and the estuary of Corcubion, in order to complete the lighting system of the lighthouses of Corrubedo and Fisterra. It is a large U-shaped building, designed by the engineer Salvador López Miño, built in stone and painted white.

Attached to the west wall, the lighthouse tower rises majestically, 14 meters high, crowned by a dome with a metallic weather vane, where the year of its inauguration is written: 1920. Until the end of the 80's it was the residence of the successive lighthouse keepers and their families and from 2021 it is enabled as a tourist accommodation establishment, to become one of the most unique and exquisite hotels in Galicia, but retaining its main purpose as a lighthouse.

At present the lighthouse emits a white and red light that reaches a distance of 20 miles. The area next to the lighthouse has one of the best beaches on the coast and radiates tranquility and peace, with beautiful panoramic views that offer an unforgettable sunset over the ocean.
Technical information
Lat : 42.7728117
Lng : -9.1236273