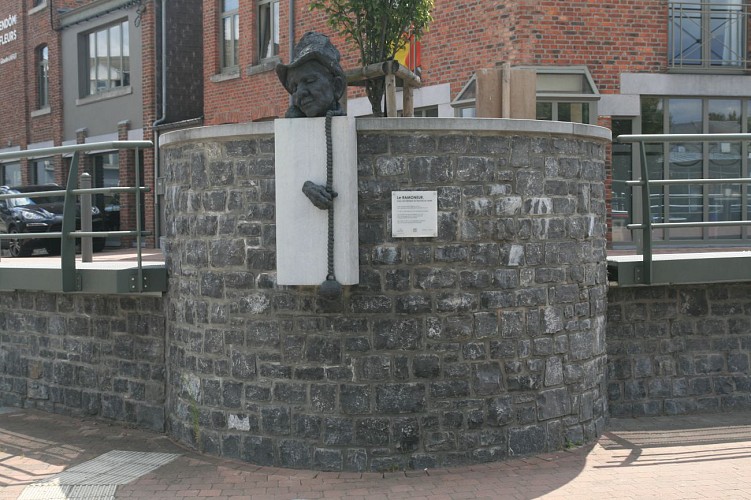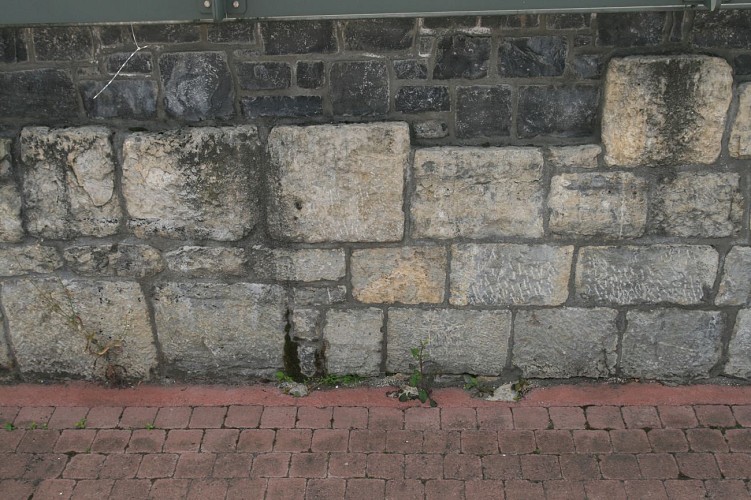 The remains of the fortified wall
Credit : Geopark Famenne-Ardenne
These traces of a fortified wall, recognisable by their lighter colour, were uncovered during the improvement
work on the boulevard, and now form an integral part of the footbridge. This footbridge is in itself a powerful
symbol of the past, representing the former allure or walkway once used by the sentries. The four rounded
spaces are a modern-day representation of the turrets that would have stood here in the Middle Ages. You
will also note that the front of each of the turrets features a sculpture. The four sculptures represent the
four traditional trades for which the town of Marche-en-Famenne was famous in those days:the lace-maker
(dentellière), the sweep (ramoneur), the tanner (tanneur) and the brewer (brasseur), names still given to four
of the town-centre streets to this day. On your left, in pride of place in the centre of the roundabout, stands
a work by artist Serge Gangolf, expressing the essence of the town's spirit over the past 40 years. Its title, "Point de rencontre", or meeting point, is a symbol of the meeting between two worlds, the old fortified town and today's world of modernity and contemporary art.
Technical information
30 Rue Porte Basse
6900 Marche-en-Famenne
Lat : 50.2295144
Lng : 5.3438133