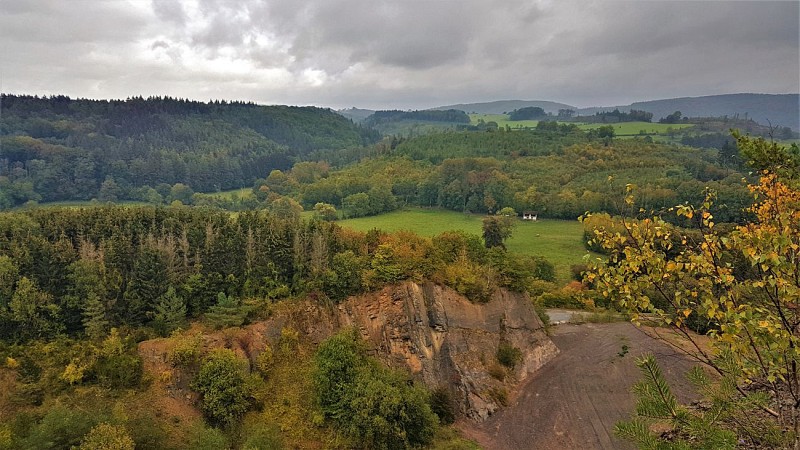 Credit : Geopark Famenne-Ardenne
A stone's throw from the Caves, the Calestienne Garden (admission free) showcases the calcicolous (chalk-loving) plants characteristic of the Calestienne. This route will take you to the top of the Hampteau quarry where the Caves of Hotton adventure first began. From this vantage point, you will enjoy a remarkable view over the valley of the Ourthe as it carves its way right across the limestone band. Further afield, the view extends to embrace, from north to south, the Condroz, the Famenne depression, the village of Hotton, the Renissart Rocks, the valley of the Isbelle tributary, the village of Hampteau and the Ardennes.

Danger : no matter how tempting it may seem, we strongly discourage the more adventurous visitors from climbing over the fence in an attempt to get closer to the edge of the precipice. Not only is there the risk of a 30-metre fall, but the quarry walls are particularly unstable given the vertical inclination of the strata and the method of quarrying once used (blasting); rock falls are a common occurrence, which is why the quarry itself is also off limits to the public.
Technical information
7 Spéléo-Club-de-Belgique
6990 Hotton
Lat : 50.2604822
Lng : 5.460189