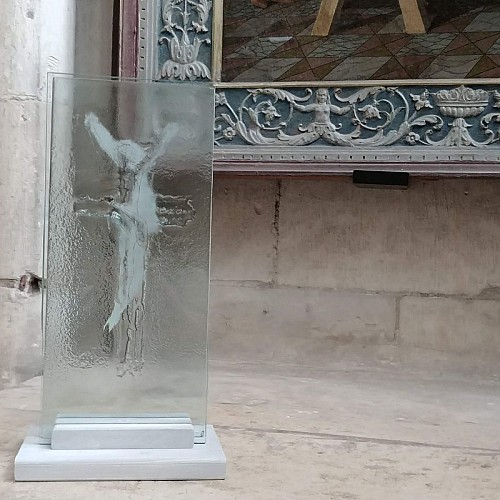 LUX CRUCIS_ Lumière de La Croix, by Anne Veyrier du Muraud - Glass artist

Materials: glass, thermoforming and white grisaille

The artist wanted a very subtle, barely perceptible glorious cross, made of light...
A cross which is now only a luminous imprint, with a Christ represented beyond all suffering in full ascent and who already no longer allows himself to be perceived completely ...

With this work, she sought to go beyond the suffering of the martyr and to symbolize the passage from the human to the divine.
That is why she wanted to paint it with light, in order to symbolize this transcendence...

The cross is already only a memory, an imprint: Christ is already the Risen One...


Presentation by Anne Veyrier du Muraud :

This artist learned the art of stained glass, creation and restoration in Parisian and Trojan workshops.
Today she continues to follow this tradition to tell her own stories.

Thus, she conceives her paintings on glass as windows opening on an imaginary world, original creations and small series inspired by plants, animals, portraits, anthropomorphic animals, sometimes inspired by the old school tattoo or old portraits ...
Her paintings often take the form of roundels (small paintings on glass in silver-grey and yellow) which she presents under the name of Dream Bubbles.

Anne Veyrier du Muraud of course also makes stained glass windows or paintings on glass to order.

It is possible to find her work at the Atelier du Marais in Montpothier.
Infos techniques
Cathédrale Saint-Pierre et Saint-Paul Place Saint Pierre
10000 Troyes
Lat : 48.3004459
Lng : 4.0815342