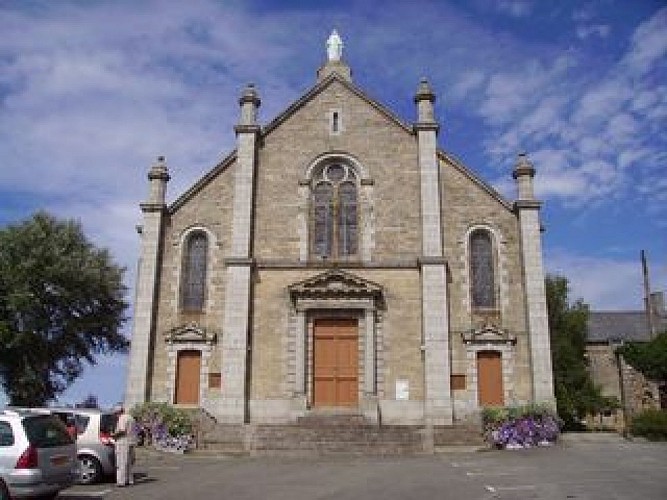 Notre Dame de Nazareth church
This church is authentic, just as this popular village during the 19th century, full of artisans and shops.

The fountain in front of you, called Ruella funtain, is the place where masons, looking for water for a building site, found, in 1621, a roofed cross statue from the 16th century, (visible in the church). Venerated for some times, it was thrown back in the water by a simple minded man. Since then odd occurrences came about. Three brave brothers looked for and found the statue, however it was broken in 3 pieces. Miracles followed and a small chapel would be built in 1644.

Dominican friars from Dinan's Saint Jacques Convent were designated to take care of the cult and built a church and a convent from 1647 to 1679 with stones from Montafilan castle, Corseul. They were expulsed by the Revolution. The church was disused and put back to the worship in 1818 and largely changed (front wall from 1892)

A pardon still takes place there. Besides, an illustrious man would take part in said pardon in 1768. Right after his birth, the young François-René de Chateaubriand, would be taken to Plancoët, where his maternal family is from, to be placed under the Virgin of Notre Dame de Nazareth's vow and wet nursed there.

An itinerary on Chateaubriand is available on this website.
Technical information
76 Rue de l'Abbaye
22130 Plancoët
Lat : 48.5174
Lng : -2.22336
0 m