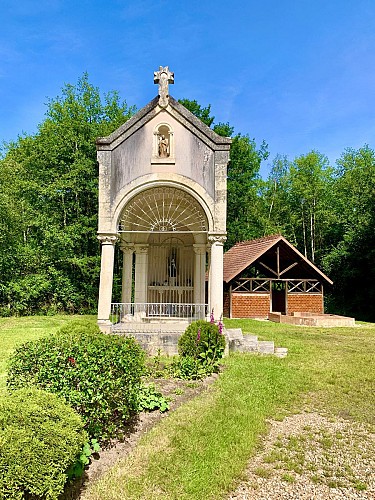 Credit : OT Sauldre et Sologne
A legend says that one day a young maid came back from the fountain and did not see the brambles at her feet, stumbled and broke her pitcher. Yet it was necessary to return to the house where reigned a bad boss. Angry, this one reproached the servant for her clumsiness and, to mock her, sent her back to fetch water with a wicker basket. The girl obeyed, her tears fell into the fountain... But in all confidence, imploring the Saint, she plunged into water her wicker basket, and MIRACLE ! The basket retained water like the most waterproof bucket and on the path, the brambles were gone forever... You won't find a single one today.
So the water from the fountain is said to be miraculous ! Montaine has since become the patron saint of Sologne.
Technical information
42 Les Chesneaux
18700 Sainte-Montaine
Lat : 47.4953135
Lng : 2.307086