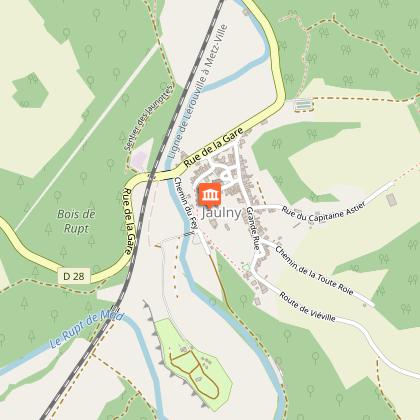 Important medieval place of the 11th and 12th centuries (Historical Monuments) dominating the valley of Rupt-de-Mad. You can still admire the 13th-century castle keep, the ramparts and the 15th-century loopholes. Outer walls with square towers. Private collection: 15th-century weapons, pieces of earthenware, First Empire weapons, Lorraine furniture... For some historians, it was Joan of Arc's last residence. The castle of Jaulny is only open on appointment for school visits.
Infos techniques
4 Rue du Château
54470 JAULNY
Lat : 48.96962
Lng : 5.886357
2 informations complémentaires
Contact
Tel : 03 83 81 93 04
Email : reservation-ecole@jaulny-chateau.com

Producteur de la donnée
Ces informations sont issues de la plateforme SITLOR - Système d'Information Touristique - Lorraine
Elles sont synchronisées dans le cadre du partenariat entre Cirkwi, l'Agence régionale du Tourisme Grand Est et les membres du comité technique de Sitlor.