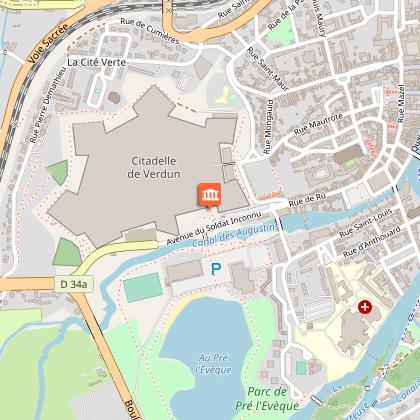 Between 1886 and 1893, underground galleries were dug beneath the citadel in Verdun. Designed to provide shelter and facilities for 2,000 men, the galleries included 6 powder magazines, 7 weapons stores, a bakery, a mill, a telephone switchboard and telegraph office, machinery to raise water for the town and forts, kitchens and vast warehouses.

Protected from the incessant shelling, this underground "town" played a major role during the Battle of Verdun in 1916. Its bread ovens produced up to 28,000 rations a day. On 13 September 1916, a ceremony was held in one of the galleries to award the town its first decorations. Then, on 10 November, it was here that an unknown soldier was selected before being placed beneath the Arc de Triomphe in Paris.

Nowadays, visitors board a small train to see some of the galleries. Throughout the visit, realistic tableaux illustrate the everyday life of soldiers in these galleries during the Battle of Verdun. At the end of the visit, you'll see a tableau depicting the selection of the body of the Unknown Soldier.

Advance booking required. Maximum of 9 people per carriage. Departures every 6 minutes.
Infos techniques
Avenue du Soldat Inconnu
55100 VERDUN
Lat : 49.157947
Lng : 5.376383